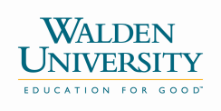 Disclosure to Prospective New Mexico Students
Prospective students who are residents of New Mexico: In order to complete your enrollment at Walden
University ("Walden"), we must provide you the following disclosures, as required by the New Mexico Post-
Secondary Educational Institution Act § 21-23-16.
COST OF ATTENDANCE FOR THE COURSE
Walden's non-degree course offerings have a cost range from $300 - $4,500, including books and supplies.1
COURSE LENGTH, CREDIT HOURS, COMPLETION/WITHDRAWAL RATES, AND MEDIAN DEBT FOR NEW
MEXICO STUDENTS
NOTE: Completion rates, withdrawal rates, and median combined loan debt are not collected at the individual course level.
NOTE: Placement rates are not included because Walden is not required to calculate placement rates by its accreditor, the Higher Learning
Commission.
| | | | | | |
| --- | --- | --- | --- | --- | --- |
| COURSE NAME | COURSE LENGTH | TOTALCREDITS | COMPLETION RATE | WITHDRAWAL RATE | MEDIAN COMBINED LOAN DEBT |
| Non Degree Course | 1-4 months | 0-5 credits | NA | NA | NA |
PROFESSIONAL LICENSURE OR CERTIFICATION REQUIREMENTS
Non-degree courses do not lead to licensure.
WALDEN CANCELLATION AND REFUND POLICY FOR NON-DEGREE COURSES
The School of Lifelong Learning (SLL) provides (non-matriculated) credit-bearing courses and non-credit
Professional Development offerings.
Credit-Bearing Courses are courses that carry academic credits. These courses are from our degree-
program catalog and offered to lifelong learners to meet their professional and personal goals. The
academic credit may be able to be applied toward a degree program at Walden. If a student chooses to
matriculate into a Walden University degree program, the university will review any prior learning
completed and may award credit towards the Walden degree program.
Professional Development offerings are non-degree, non-credit courses. They are intended for learners
who want to gain general knowledge, learn a new skill, upgrade existing skills, or enrich their
understanding about a wide range of topics. Professional Development offerings are NOT applicable
toward a degree.
Unless specified on the course offering's product page, Learners can request a full refund within seven
days of purchase for the offering by emailing [email protected].
——————————————
1 Cost is not an estimate of individual experience and will vary based on factors including but not limited to: individual progress, part-time vs. full-
time enrollment, unsuccessful course completion, tuition increase, leaves of absence, job obligations or other personal circumstances.
Walden University New Mexico Consumer Disclosure – updated December 15, 2020